Nagpur's Economic Explosives Limited, the 'Rooftop Solar Programme-Phase 2', International Lusophone Festival, 'In-Principle' approval, India's largest botanical garden, Sanitation Workers' Development Scheme, IUCN Red List of Threatened Species, International Fleet Review, Exercise Sangam, Mitsubishi F-X fighter jet, Renewables 2022: Analysis and forecast to 2027, International Debt Report 2022, Jindal Steel and Power, StocX Private Market Index, 'in-principle' authorisation, HDFC ERGO General Insurance Company, ASK Indian Entrepreneur Fund, Paisabazaar, SV Credit Line, Federal Reserve Bank of New York, 'global ambassador for diabetes, World Diabetes Congress 2022, Indian Navy's 55th Submarine Day, International Anti-Corruption Day, The Don Award, "Fit @ Any Age: A Practitioner's Guide"
Nagpur's Economic Explosives Limited (EEL), a subsidiary of Solar Group, has developed a rocket motor for PSLV, which was successfully tested by the Indian Space Research Organisation (ISRO).
Central government has extended the 'Rooftop Solar Programme-Phase 2' till March 31, 2026.
Ministry of External Affairs, in partnership with the Indian Council of Cultural Relations (ICCR) and the Government of Goa, is organizing the International Lusophone Festival.
Government of India has accorded 'In-Principle' approval for setting up of 21 Greenfield Airports.
West Bengal's Acharya Jagadish Chandra Bose Indian Botanic Garden – India's largest botanical garden – is currently under threat because of severe land erosion by Ganga river.
Kerala CM M.K. Stalin has inaugurated the Sanitation Workers' Development Scheme to protect the welfare of conservancy workers in the State.
Three medicinal plant species (Meizotropis pellita, Fritillaria cirrhosa, Dactylorhiza hatagirea) found in the Himalayas have been added to the IUCN Red List of Threatened Species.
INS Kochi, Kavaratti and Sumedha arrived in Cox's Bazar, Bangladesh to participate in the maiden International Fleet Review (IFR) being conducted by the Bangladesh Navy.
7th edition of Exercise Sangam, a joint Naval Special Forces exercise between Indian Navy MARCOs and US Navy SEALs, was organized in Goa.
Japan has announced to develop Mitsubishi F-X fighter jet, its next-generation fighter jet, in collaboration with the United Kingdom and Italy.
International Energy Agency has released the "Renewables 2022: Analysis and forecast to 2027" report.
World Bank has released the "International Debt Report 2022", formerly International Debt Statistics (IDS).
Jindal Steel and Power (JSPL) has acquired bankrupt Monnet Power for ₹410 crore.
in, an online unlisted securities portal, has launched India's first private market index known as StocX Private Market Index (SPMI).
B2B payments solutions provider PayMate has received 'in-principle' authorisation from the Reserve Bank of India (RBI) to operate as a payment aggregator.
HDFC ERGO General Insurance Company has partnered with NIIT, a global talent development corporation, to create a large pool of IT professionals.
ASK Capital has received approval from the Central Bank of Ireland to launch an India-based fund — ASK Indian Entrepreneur Fund — through the UCITS (Undertakings for Collective Investment in Transferable Securities) route.
Paisabazaar and RBL Bank has launched a new co-created credit card 'Duet'.
Private sector IndusInd Bank have partnered with SV Credit Line (NBFC) for a co-lending agreement for Rs 500 crore loan exclusively to women borrowers.
Indian-origin Sushmita Shukla, a veteran of the insurance industry, has been appointed as the First Vice President and Chief Operating Officer at the Federal Reserve Bank of New York.
Bangladesh's PM Sheikh Hasina has been named 'global ambassador for diabetes' by the International Diabetes Federation at the World Diabetes Congress 2022 in Portugal.
December 8 – Indian Navy's 55th Submarine Day
International Anti-Corruption Day; Theme – UNCAC at 20: Uniting the World against Corruption
Ashleigh Barty, the winner of the Australian Open women's singles title in January, has been conferred with The Don Award, Australia's most prestigious annual sports award.
"Fit @ Any Age: A Practitioner's Guide" has been authored by Air Marshal P V Iyer
National News
Nagpur's Economic Explosives Limited (EEL), a subsidiary of Solar Group, has developed a rocket motor for PSLV, which was successfully tested by the Indian Space Research Organisation (ISRO).

This also marks the beginning of end-to-end production of the Polar Satellite Launch Vehicles (PSLV) through a private sector industry.
It was the first PSOM XL motor, which forms the PS0 stage of the PSLVE-XL.

Central government has extended the 'Rooftop Solar Programme-Phase 2' till March 31, 2026.

Now, the subsidy under the programme will be available until the target under the programme is achieved.
Knowledge Nuggets –
• Ministry of New and Renewable Energy is implementing the Rooftop Solar Programme-Phase 2 since 2019 to achieve 40,000 MW cumulative capacity from rooftop solar projects by 2022 (now extended to 2026).
• Components of the scheme –
o Component A – Setting up of 4000 MW of grid connected rooftop plants in residential sector with central financial assistance.
o Component B – Incentives to DISCOMs based on achievement of installing rooftop capacity.
• Central financial assistance –
o For individual households CFA up to 40% of the benchmark cost is provided for RTS projects up to 3 kW capacity
o Up to 20% of the benchmark cost is provided for RTS projects beyond 3 kW and up to 10 kW
o For Group Housing Societies/Residential Welfare Associations, CFA is limited to 20% for RTS plants
• The total solar power installed capacity in the country as on 28.2.2022 was 50.78 GW including 6.4 GW from rooftop solar.
• National Institute of Solar Energy (NISE), an autonomous institute under the Ministry of New and Renewable Energy, has estimated a potential of 43 GW for Grid Connected RTS in the country.
Ministry of External Affairs, in partnership with the Indian Council of Cultural Relations (ICCR) and the Government of Goa, is organizing the International Lusophone Festival.

Lusophones are peoples that speak Portuguese as a native or as common second language.
Knowledge Nuggets –
• Portuguese is an official language of Angola, Brazil, Cape Verde, East Timor, Guinea Bissau, Macau, Mozambique, Portugal, & São Tomé and Príncipe.
• Goa was a colony of Portuguese until December 19, 1961. Even today, the elderly and educated populations speak Portuguese.
Government of India has accorded 'In-Principle' approval for setting up of 21 Greenfield Airports.

Out of these, 9 Greenfield airports Durgapur, Shirdi, Kannur, Pakyong, Kalaburagi, Orvakal (Kurnool), Sindhudurg, Kushinagar and Donyi Polo, Itanagar have been operationalized.
State News
West Bengal's Acharya Jagadish Chandra Bose Indian Botanic Garden – India's largest botanical garden – is currently under threat because of severe land erosion by Ganga river.

It is situated in Shibpur, Howrah near Kolkata.

Kerala CM M.K. Stalin has inaugurated the Sanitation Workers' Development Scheme to protect the welfare of conservancy workers in the State.
Three medicinal plant species (Meizotropis pellita, Fritillaria cirrhosa, Dactylorhiza hatagirea) found in the Himalayas have been added to the IUCN Red List of Threatened Species.

Meizotropis pellita: commonly known as Patwa; endemic to Uttarakhand; classified as 'critically endangered' due to limited area of occupancy (less than 10 sq. km)
Fritillaria cirrhosa: commonly known as Himalayan fritillary; classified as 'vulnerable' by IUCN
Dactylorhiza hatagirea: commonly known as Salampanja; endemic to the Hindu Kush and Himalayan ranges of Afghanistan, Bhutan, China, India, Nepal, and Pakistan; classified as 'endangered' by IUCN
Defence News
INS Kochi, Kavaratti and Sumedha arrived in Cox's Bazar, Bangladesh to participate in the maiden International Fleet Review (IFR) being conducted by the Bangladesh Navy.

IFR-22 is conducted by Bangladesh to commemorate the Birth Centenary of the Father of the Nation, Bangabandhu Sheikh Mujibur Rahman and to celebrate the Golden Jubilee of the Independence of Bangladesh.
Bangladesh PM Sheikh Hasina was the Chief Guest at the IFR.
INS Kochi is a part of the Indian Navy's Western Fleet based at Mumbai, whilst INS Kavaratti and INS Sumedha form part of the Eastern Fleet based at Visakhapatnam.

7th edition of Exercise Sangam, a joint Naval Special Forces exercise between Indian Navy MARCOs and US Navy SEALs, was organized in Goa.

Exercise Sangam was first conducted in 1994.
MARCOS are the marine commandos and United States Navy Sea, Air, and Land (SEAL) Teams, commonly known as Navy SEALs, are the U.S. Navy's primary special operations force.
International News
Japan has announced to develop Mitsubishi F-X fighter jet, its next-generation fighter jet, in collaboration with the United Kingdom and Italy.

The Mitsubishi F-X fighter jet will replace the aging fleet of F-2s that Japan previously developed with the United States.
These countries will also collaborate for developing the next-generation planes – the F-X and Britain's Tempest, a successor to the Eurofighter Typhoon – by 2035.
Knowledge Nuggets –
• Japan capital – Tokyo; currency – Yen; Japanese name of the country – Nippon; Popular as – The Land of the Rising Sun
• Japanese Yen is a part of the Special Drawing Rights basket of International Monetary Fund, along with US Dollar, Chinese Renminbi, British Pound Sterling, and Euro.
• Japan is an archipelago of 4000 small islands.
• Main islands of Japan are Hokkaido, Honshu, Kyushu, Shikoku, and Okinawa.
• Japan's Hiroshima city is located on the Honshu island and Nagasaki is located on Kyushu island.
• Kyoto City on Honshu island is the 'Cultural Capital of Japan'.
• Osaka city on Honshu island is called the 'Manchester city of Japan'.
• Japan's highest civilian honours (descending order) –
o Order of the Chrysanthemum
o Order of the Rising Sun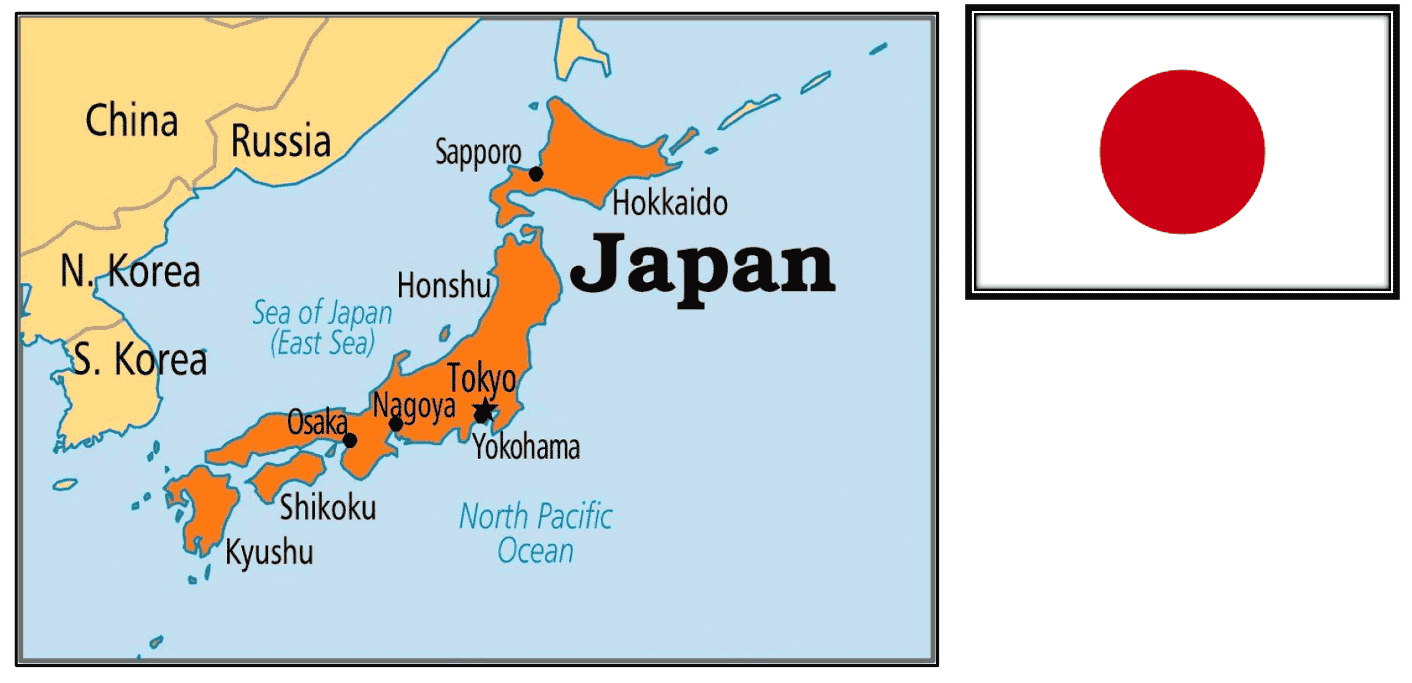 Reports and Indices
International Energy Agency has released the "Renewables 2022: Analysis and forecast to 2027" report.

Global Scenario –
Over 2022-2027, renewables are seen growing by almost 2,400 GW, equal to the entire installed power capacity of China at present.
Renewables are set to account for over 90% of global electricity capacity expansion over the forecast period.
Renewables will become the largest source of global electricity generation by early 2025, surpassing coal. Its share in the total energy mix is set to increase to 38% by 2027.
Electricity from wind and solar PV more than doubles in the next five years, providing almost 20% of global power generation in 2027.
Solar PV's installed power capacity is set to surpass that of coal by 2027, becoming the largest in the world.
Global wind capacity will double almost, with offshore projects accounting for one-fifth of the growth. Over 570 GW of new onshore wind capacity are forecast to become operational over the 2022-27 period.
Country-Wise Data –
China is forecast to install almost half of new global renewable power capacity over 2022-2027.
In India, the new renewable energy installations are set to double over the forecast period, led by solar PV to achieve the government's ambitious target of 500 GW of non-fossil capacity by 2030.
Solar PV manufacturing investment in India and the United States is expected to reach almost USD 25 billion over 2022-2027, a sevenfold increase compared with the last five years.
Knowledge Nuggets -
• IEA was created in 1974.
• HQ - Paris, France
• Members - 31 member countries, 11 association countries, and 4 accession countries
World Bank has released the "International Debt Report 2022", formerly International Debt Statistics (IDS).

The debt of low and middle-income countries in the Sub-Saharan Africa has increased to a record high of $789 billion in 2021.
This high level of debt is beyond the repayment capacity of the countries in this region.
Banking and Economy
Jindal Steel and Power (JSPL) has acquired bankrupt Monnet Power for ₹410 crore.
in, an online unlisted securities portal, has launched India's first private market index known as StocX Private Market Index (SPMI).

Until now, there was no way to track the price movements of privately traded securities (i.e., the stocks of companies that are not yet listed in the stock market). Thus, StocX.in aims to provide the information about the prices of privately traded securities.
in built the StocX Private Market Index using a methodology known as "Change Percentage." The index is computed using 1000 as the base value as on 1 January 2022.
The index will track prices of more than 30 companies actively traded in the unlisted market and provide analysis and trends through data analytics.

B2B payments solutions provider PayMate has received 'in-principle' authorisation from the Reserve Bank of India (RBI) to operate as a payment aggregator.

As per a report, the Indian payment gateways market stood at $1.2 Bn in 2021 and is expected to grow to $2.68 Bn by 2027.
Knowledge Nuggets -
• Merchant aggregation also known as payment aggregation, is a business model where a third-party payment provider signs up merchants directly under its own merchant identification number (MID) to process transactions through a single master account.
• In 2020, RBI released the Guidelines for Regulation of Payment Aggregators and Payment Gateways.
• Highlights of the guidelines –
HDFC ERGO General Insurance Company has partnered with NIIT, a global talent development corporation, to create a large pool of IT professionals.

Purpose – To create developers to unlock full potential of technology powered insurance solutions
The program will be delivered through live, instructor-led sessions and will also offer a stipend to the participants.
Knowledge Nuggets -
• NIIT Ltd (National Institute of Information Technology) is an Indian multinational skills and talent development corporation headquartered in Gurgaon, India.
• The company was set up in 1981 to help the IT industry overcome its human resource challenges.
ASK Capital has received approval from the Central Bank of Ireland to launch an India-based fund — ASK Indian Entrepreneur Fund — through the UCITS (Undertakings for Collective Investment in Transferable Securities) route.

ASK is the fourth asset or wealth management firm in India to receive approval for an UCITS (Undertakings for Collective Investment in Transferable Securities) fund.
UCITS is a regulatory framework of the European Commission for management and sale of mutual funds. This label serves as a stamp of quality and reliability for overseas investors.

Paisabazaar and RBL Bank has launched a new co-created credit card 'Duet'.

The card offers two credit offerings–cashback on purchases made through the card and a line-of-credit from RBL bank that enables instant transfer of money into the bank account.
All online and offline purchases done through the card will earn the cardholder a flat 1% cashback.
There is no upper limit on the cashback earned but no cashback is offered on wallet loading, EMI transactions, fuel purchase and rent payment done through the card. The card carries no joining fee or annual fee.

Private sector IndusInd Bank have partnered with SV Credit Line (NBFC) for a co-lending agreement for Rs 500 crore loan exclusively to women borrowers.

The agreement will help rural women access to affordable loans.
This NBFC only lends to women customers.
Appointments
Indian-origin Sushmita Shukla, a veteran of the insurance industry, has been appointed as the First Vice President and Chief Operating Officer at the Federal Reserve Bank of New York.
Bangladesh's PM Sheikh Hasina has been named 'global ambassador for diabetes' by the International Diabetes Federation at the World Diabetes Congress 2022 in Portugal.
Knowledge Nuggets -
• The International Diabetes Federation is headquartered in Brussels, Belgium.
• International Diabetes Federation (IDF) is an umbrella organization of over 230 national diabetes associations in more than 160 countries and territories.
• November 14 – World Diabetes Day
Important Days
December 8 – Indian Navy's 55th Submarine Day
December 9 –

International Anti-Corruption Day; Theme – UNCAC at 20: Uniting the World against Corruption
International Day of Commemoration and Dignity of the Victims of the Crime of Genocide and of the Prevention of this Crime

The Convention on the Prevention and Punishment of the Crime of Genocide (Genocide Convention) was signed on December 9, 1948 in Paris as an instrument of international law that codified the crime of genocide, for the first time.
Sports
Ashleigh Barty, the winner of the Australian Open women's singles title in January, has been conferred with The Don Award, Australia's most prestigious annual sports award.

The award is named after the country's legendary cricketer Don Bradman.
Miscellaneous
"Fit @ Any Age: A Practitioner's Guide" has been authored by Air Marshal P V Iyer.
About Anuj Jindal
━━━━━
Anuj Jindal, the founder, is an ex-manager from SBI, with an M.Com from Delhi School of Economics. He also has a JRF in Commerce & Management and NET in HRM, along with more than 5 years of experience in the field of Education.